How long does it take for Amazon to deploy a bug fix in production?
Short Ans: ~2 days
Firstly, I don't work at Amazon, and I haven't worked at Amazon (as of 2019).
You can rightly ask me, how do I know the time taken for Amazon to deploy a bug fix in production? Well, I found out a bug in the Amazon.in and reported to the Amazon security team (CCed Jeff Bezos, I know ;) ) and then calculated the time it took Amazon to fix the bug in production.
Bug in itself was a rookie mistake. All the subtitle links from "Subscribe and Save" were redirecting to pre-prod servers (Maybe an intern deployed the code in production with a pre-prod configuration file, well we will never know).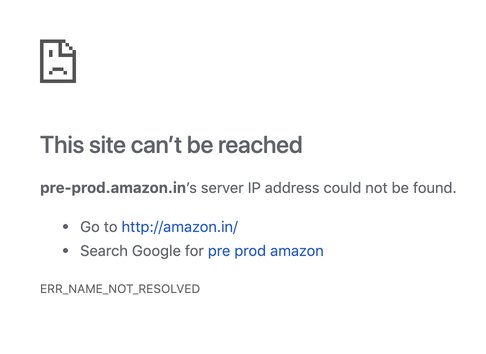 The pre-prod domain of Amazon!
As soon as I found out, I wrote a quick mail to the Security team at Amazon, and I thought it would be a significant incident and stuff. To my surprise it was not until the next day, I got a call from Amazon executive and was asked to submit more information, and it was treated as a Customer support case.
The Original Mail reporting the bug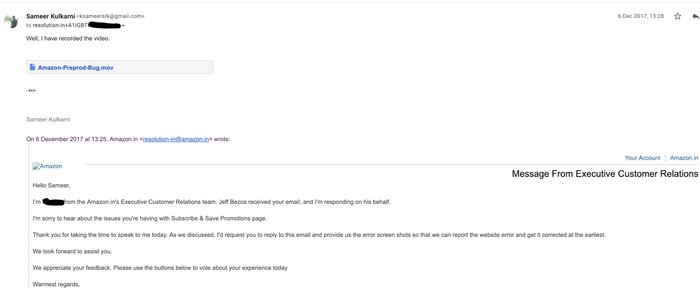 Response from the Amazon Executive
Then, I did a screen recording of the bug by reproducing the issue(which was clicking on those links which were redirecting to the pre-prod servers) and forwarded the video to the Amazon Executive.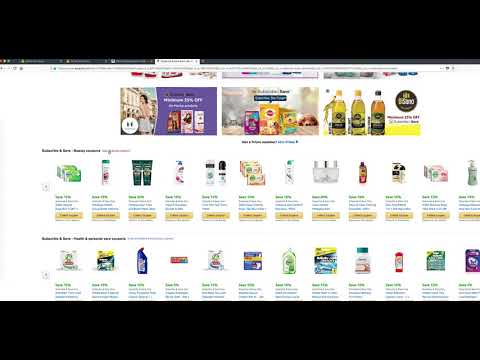 The screen recording of the bug!
The issue was resolved after two days. The most interesting thing about this entire incident was fixing a bug in production took almost two days for even a company like Amazon. This illustrates however big you are, robust your testing is, talented the people working on this project are, if there is a software, bugs are bound to be there, and it will take hours to fix it (In this case it was days).
Since the incident was treated as a customer issue, I received the last mail from Amazon after two weeks as shown below.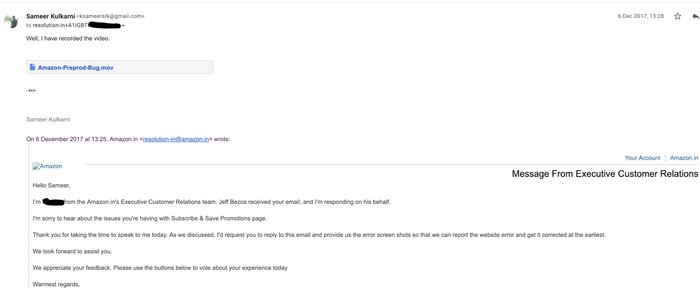 A generic response from Amazon team!
I think I deserved a cap or $15 credit in my AWS Account!